The origin of the Lohri can be traced back to the tale of Dulla Bhatti. By the end of the first week of January, small groups of boys ring the doorbell of houses and start chanting the Lohri songs related to Dulla Bhatti. In turn, the people give them popcorn, peanuts, crystal sugar, sesame seeds (til) or gur as well as money. Turning them back empty-handed is regarded inauspicious.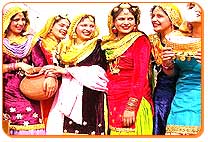 Lohri marks the end of winter on the last day of Paush, and beginning of Magha (around January 12 and 13), when the sun changes its course. It is associated with the worship of the sun and fire and is observed by all communities with different names, as Lohri is an exclusively Punjabi festival. The questions like When it began and why is lost in the mists of antiquity.
The origin of Lohri is related to the central character of most Lohri songs is Dulla Bhatti, a Muslim highway robber who lived in Punjab during the reign of Emperor Akbar. Besides robbing the rich, he rescued Hindu girls being forcibly taken to be sold in slave market of the Middle East. He arranged their marriages to Hindu boys with Hindu rituals and provided them with dowries. Understandably, though a bandit, he became a hero of all Punjabis. So every other Lohri song has words to express gratitude to Dulla Bhatti.
Some believe that Lohri has derived its name from Loi, the wife of Sant Kabir, for in rural Punjab Lohri is pronounced as Lohi. Others believe that Lohri comes from the word 'loh', a thick iron sheet tawa used for baking chapattis for community feasts. Another legend says that Holika and Lohri were sisters. While the former perished in the Holi fire, the latter survived. Eating of til (sesame seeds) and rorhi (jaggery) is considered to be essential on this day. Perhaps the words til and rorhi merged to become tilorhi, which eventually got shortened to Lohri.
Ceremonies that go with the festival of Lohri usually comprises of making a small image of the Lohri goddess with gobar (cattle dung), decorating it, kindling a fire beneath it and chanting its praises. The final ceremony is to light a large bonfire at sunset, toss sesame seeds, gur, sugar-candy and rewaries in it, sit round it, sing, dance till the fire dies out. People take dying embers of the fire to their homes. In Punjabi village homes, fire is kept going round the clock by use of cow-dung cakes.
Lohri is the harvest festival of Punjab, famously known as the the breadbasket state of India. Thus, people residing in Punjab attach a great significance to Lohri, the festival in feasts and foods. This harvest festival is celebrated to mark both celebration and sharing.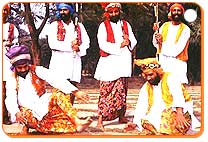 Lohri festival prompts people to be thankful for God's provision and to celebrate his creation, its focus on farming.
In Punjab, wheat is the main winter crop, which is sown in October and harvested in March or April. In January, the fields come up with the promise of a golden harvest, and farmers celebrate Lohri during this rest period before the cutting and gathering of crops. For Punjabis, this is more than just a festival, it is also an example of a way of life.
Celebrating The Harvest Festival
Lohri is a festival of zeal and verve and marks the culmination of the chilly winter. In true spirit of the Punjabi culture, men and women perform Bhangra and Giddha, popular Punjabi folk dances, around a bonfire. Enthusiastic children go from house to house singing songs and people oblige them generously by giving them money and eatables as offering for the festival.
Logs of wood are piled together for a bonfire, and friends and relatives gather around it. They go around the fire three times, giving offerings of popcorns, peanuts, rayveri and sweets. Then, to the beat of the dhol (traditional Indian drum), people dance around the fire. Prasad of til, peanuts, rayveri, puffed rice, popcorn, gajak and sweets is distributed. This symbolizes a prayer to Agni for abundant crops and prosperity.
Lohri is also an auspicious occasion to celebrate a newly born baby's or a new bride's arrival in the family. The day ends with a traditional feast of sarson da saag and makki di roti and a dessert of rau di kheer (a dessert made of sugarcane juice and rice). The purpose of the Lohri harvest ceremony is to thank the God for his care and protection. During this festival the people prepare large quantities of food and drink, and make merry throughout the day and night. Therefore everyone looks forward to this day.
Thus the jubilation at a bountiful harvest becomes the reason for the celebration of Lohri. It is one of the most popular harvest festivals of Punjab, with fairs held at various places. Dancing men and women, sing and dance around the bonfire and people come out of their houses to greet one and all.
Happy Lohri to one and all and prosperity to everybody.! Surely the best time to say Cheers!